Bayley's Brown Ale
HOW COME YOU TASTE SO GOOD?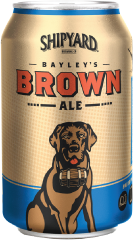 ENGLISH STYLE BROWN ALE
4.5% ABV | 70 IBU

HOP VARIETIES
English Challenger, Fuggles, Eadt Kent, Goldings

MALT VARIETIES
Pale Ale, Chocolate, Roasted Barley, Wheat, Crystal

PACKAGE AVAILABILITY
CANS: 12oz - 6 pack, 12 pack BOTTLES: 12oz - 6 pack, 12 pack, case Keg
THE ORIGINAL SHIPYARD BREW DOG, BAYLEY, WAS A CHOCOLATE LAB FULL OF LIFE AND LOVE FOR THE SEA.
The original Shipyard brew dog, Bayley, was a chocolate lab full of life and love for the sea. This classic English style brown ale is medium bodied with wonderful notes of caramel, toasted nuts, and hints of chocolate goodness. Brewed for that feeling that someone loves you unconditionally.
Discover More of Our Beers