Export
The Flagship Beer of Shipyard Brewing Co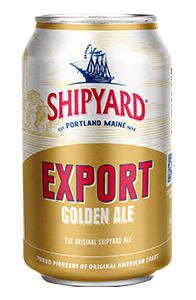 Golden American Ale
5.1% ABV | 29 IBUs

HOPS VARIETIES
Williamette, Cascade, Tettnang

MALT VARIETIES
Two-Row British Pale Ale, Crystal, Wheat

PACKAGE AVAILABILITY
CANS: 12oz - 6 pack, 12 pack BOTTLES: 12oz - 6 pack, 12 pack, DRAFT
Pioneering American Craft Beer
Our flagship ale and the beer that built Shipyard Brewing Co. was thoughtfully engineered based on English tradition and is brewed with the finest ingredients sourced whenever possible from local Maine farms.
A distinguished American Golden Ale, Export offers hints of malty sweetness, distinctive hop aromas, finishing clean and crisp, refreshing to almost any palate.
Export is a classic brew which continues to lead the way as a drinkable, well-balanced and flavorful ale.
Discover More of Our Beers